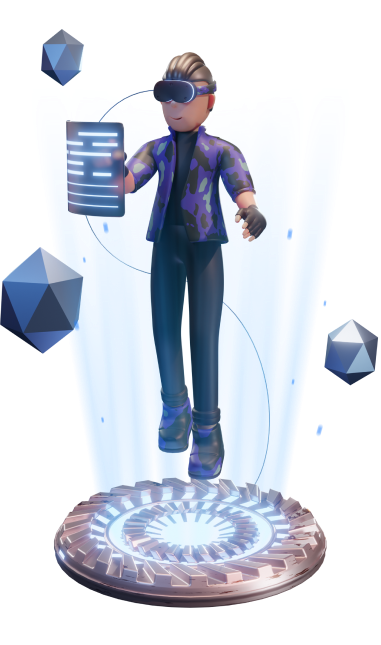 Innovating Augmented Reality in India
Augmented Reality (AR) has emerged as a fascinating technology in recent years, completely reviving the way we engage with digital content. It superimposes digital information on the real world, offering a compelling experience that amplifies the user's reality. The accelerated use of smartphones and wearable devices has made AR more accessible and has diversified its applications across various domain such as gaming, entertainment, education, and healthcare.
As a specialized Augmented Reality development company, we create custom AR apps for a variety of industries. Our skilled developers leverage their knowledge to create AR apps that not only improve user engagement but also provide substantial value to businesses. Being one of the foremost augmented reality app companies, we have developed advanced AR solutions that foster customer satisfaction and drive engagement.
AR & Metaverse Apps for all verticals
Augmented Reality (AR) has made significant feat across various industries providing innovative ways to enhance the user experience. By enabling users to interact with digital content in a unique way, AR is enhancing the overall experience for customers and employees alike. For instance, AR is revolutionizing the way products are showcased in the retail industry, providing customers with an immersive and personalized shopping experience. AR is also being used in healthcare to provide doctors with a more accurate and detailed view of a patient's condition. AR is transforming the way businesses train their employees, providing a more engaging and interactive learning experience. Overall, AR has a wide range of applications and is becoming an essential tool for enhancing user experience in various verticals.
AR is tied to the concept of Metaverse, and we focus on Metaverse app development service too. An emerging concept, Metaverse refers to a virtual world that is interconnected with the real world. Metaverse apps allow users to connect with digital content in a novel way, creating new avenues for businesses and individuals alike. We create innovative Metaverse solutions that enhance customer engagement and drive revenue growth. Our Metaverse app development services enable not only businesses but all classes of individuals in unique ways.
Augmented Reality is an exciting technology that has the potential to change the way we deal with digital content. Iluzia is an Augmented Reality development company that specializes in building AR apps for various industries. Whether you are looking to enhance customer engagement, drive revenue growth, or provide innovative solutions, Iluzia Lab has the expertise to help you achieve your goals.