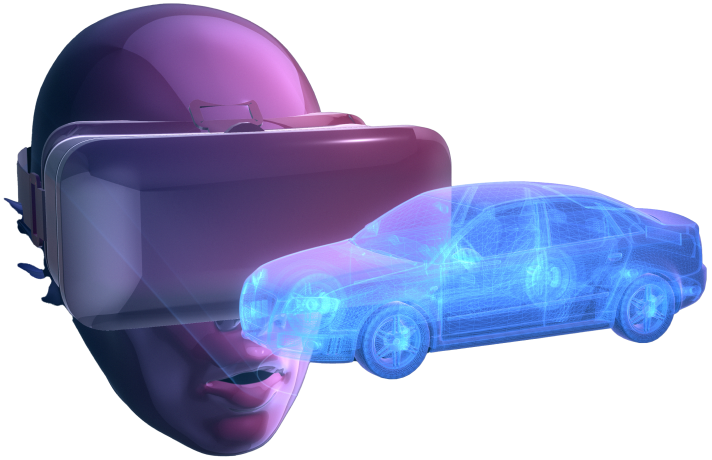 Metaverse to Steer the Automobile Industry
The automobile industry is another domain where Metaverse plays a crucial role. It is transforming the automobile sector by bringing dealers and customers closer. A customer can see a vehicle and test drive it on the metaverse itself which is a great change. It will also have an influence on the used car market. The Metaverse will hog the industry by introducing virtual showrooms, vehicle simulators and learning platforms. Metaverse and VR technologies also provide the automotive industry with new opportunities to engage with customers, streamline design and manufacturing processes, and create unique and innovative marketing strategies.
The role of Metaverse in road safety is commendable. Iluzia Lab, the undisputed leader in the Metaverse spectrum leverages the immense potential of the Metaverse technology by developing new services for the automobile industry like a personalised learning platform that meets the needs of individual users. Plans are on the anvil to create metaverse based traffic awareness programmes in association with Kerala Police.
Virtual Showrooms to Browse and Interact with Vehicles in a Real-like Environment
One major way in which Metaverse and VR will transform the automobile industry is through virtual showrooms. Traditional car showrooms have limitations that can make the car-buying process frustrating and time-consuming. However, with virtual showrooms, potential customers can browse and interact with virtual car models in a lifelike environment. This provides a unique and engaging experience that traditional showrooms cannot replicate. Customers can even customize and visualize cars in real time and get an accurate sense of how the car will look and feel before making a purchase.
Virtual showrooms with personalized metaverse virtual assistants can be a great feat in the automobile industry. The metaverse virtual assistants guide customers in making purchasing decisions. This way, customers can get a more personalized experience without the need for physical salespersons. By utilizing virtual showrooms, automakers can reduce costs and improve customer experience.
Metaverse in Automobile Designing & Testing
Metaverse and VR can facilitate new design processes and testing procedures, allowing automakers to create and test new designs in a virtual space before moving to physical production. This reduces costs and time, as well as enabling more complex and creative designs that may not be feasible using traditional methods. For instance, car designers can now use VR technology to create and test out designs in a virtual space, allowing them to make adjustments and improvisations before moving into physical production. This not only saves time and resources, but also allows for more complex designs that would be difficult to create using traditional methods. Car manufacturers can reduce the risks and costs involved in the physical testing and prototyping phases of product development with the integration of metaverse technology.