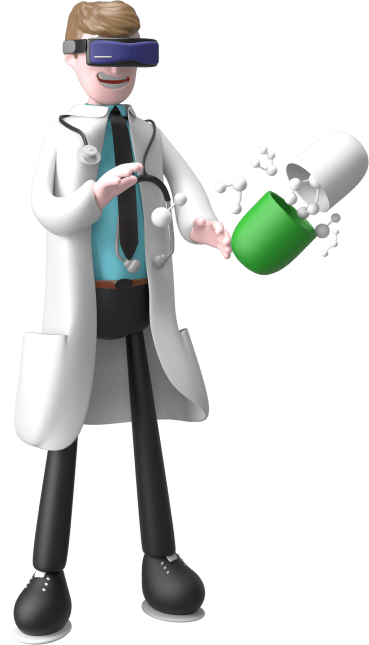 How Metaverse is going to revolutionize the healthcare sector?
Healthcare is one of the sectors where Metaverse's impact can be transformational. Taking the advantage of Artificial Intelligence, Virtual Reality and Augmented Reality, the healthcare sector is poised to exhibit great changes. The metaverse has the potential to transform the healthcare industry in several ways. Iluzia Lab is at the forefront of developing many metaverse programmes for the healthcare industry.  Here are some ways in which the metaverse could revolutionize healthcare:
Virtual Training and Education: The metaverse can be used to train healthcare professionals virtually, using advanced simulators that provide hands-on training in complex procedures. This can help reduce the risk of errors and improve patient outcomes. Virtual Reality courses may become prominent in medical education in the future.
Telemedicine: With the help of the metaverse, patients can have virtual consultations with their doctors from the comfort of their own homes. This can be especially helpful for patients who are too sick to leave their homes or live in remote areas.
Remote Monitoring: The metaverse can be used to remotely monitor patients' health and vital signs, allowing healthcare providers to intervene early if there is a problem. This can help reduce hospitalizations and emergency room visits.
Virtual Reality Therapy: Virtual reality can be an effective tool to ward off phobias that patients used to have, manage pain, and reduce stress. Virtual reality therapy is a promising field that can help medical professionals in treating a range of mental health conditions.
Medical Research: The metaverse eases the conduct of medical research in a more efficientand cost-effective manner. Researchers can use virtual simulations to test new treatments and therapies, reducing the need for expensive and time-consuming clinical trials.
Simulation of medical procedures & surgeries: Metaverse has the potential to simulate medical procedures and surgeries through virtual reality and advanced simulators. This allows healthcare professionals to receive hands-on training and practice complex procedures in a safe and controlled environment before performing them on real patients. This can help reduce the risk of errors and improve patient safety. Apart from this, virtual simulations can be used to test new medical devices and treatments, reducing the need for expensive and time-consuming clinical trials.
Healthcare Marketing: The metaverse can be used by healthcare providers to create immersive marketing experiences that showcase their services and facilities, which can further add to the revenue generation of the medical service provider.
Disaster Preparedness: The metaverse can be used to simulate disaster scenarios and train healthcare providers on how to respond in emergency situations. This will greatly benefit healthcare institutions.
Metaverse can also provide interactive and engaging patient education materials that can help patients better understand their health conditions and treatment options. It can offer virtual support groups and counselling sessions for patients with mental health conditions, reducing the stigma around seeking help and providing more accessible mental health care.
As technology continues to advance, we can expect to see even more uses of the metaverse inhealthcare, including metaverse courses.