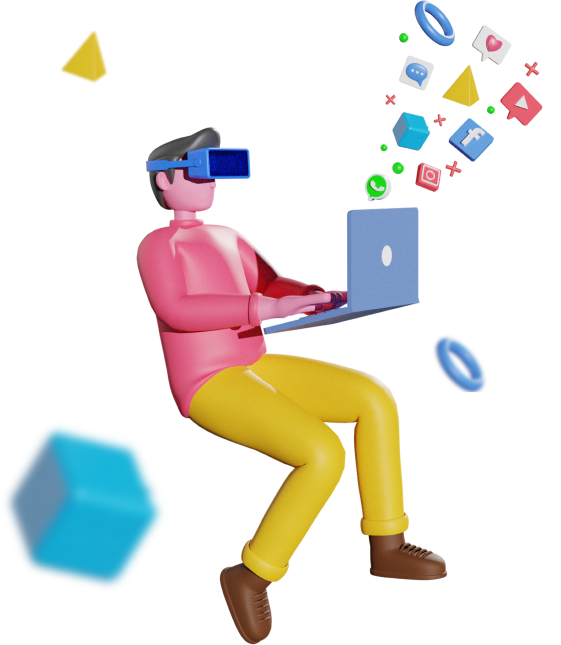 Virtual Marketing with AR & Metaverse
Marketing is poised to take a new turn with the advancement of the Metaverse technology. As the millennials and Gen Z categories are ardent users of the Metaverse and VR, the way they consume marketing services will have a positive impact on the Metaverse world. With a focus on innovation, accessibility, and creativity, the Metaverse is poised to change the way we think about marketing forever. Iluzia Lab, which has scripted many pioneering ventures in this field, is researching and developing new services in virtual marketing.
Immersive Experience to engage audiences
Virtual Reality technology and the Metaverse offer a new way for brands to engage their audiences through immersive experiences. This is particularly important in today's economy, where capturing the attention of consumers is becoming increasingly difficult. The Metaverse allows customers to engage with products in an exciting way that generates inclination among users to buy a product. For example, a virtual fashion show can showcase a brand's latest collection in a way that is interactive and memorable, creating a lingering impression among customers. The Metaverse offers an even more expansive platform for immersive experiences, allowing brands to create entire virtual worlds that customers can explore and interact with.
Increased Accessibility to Global Audiences
One of the most significant advantages of virtual marketing through the Metaverse and VR is enhanced accessibility. With virtual marketing, brands can reach a global audience without the need for physical locations or travel. This not only saves time and resources but also allows brands to reach a wider and more diverse audience. Additionally, virtual marketing offers greater reachability to those with disabilities or limited mobility, making it a more inclusive way to expand the customer base. This is particularly important in a world that is becoming increasingly diverse.
Cost-Effective Marketing Solutions
Virtual marketing utilizing the Metaverse and VR technologies provides a more costeffective solution than traditional marketing strategies. By leveraging these technologies, brands can create immersive experiences at a lower cost, and simultaneously reach a larger audience. This approach not only helps larger brands streamline their marketing endeavours but also strengthens smaller brands to compete in the market without significant financial investment. For instance, a startup can set up a virtual pop-up store that showcases its products without the need for a physical location. This provides smaller companies with a competitive edge to deal with the competition.